May 16, 2023 9:52 am /
markets shows events
,
wools going on
/
Customer appreciation
,
eucalan
,
fiber fate
,
hand dyed
,
handspun
,
livestock conservancy
,
news
,
shop announcements
,
spinning
,
updates
,
wool
What a fantastic start to 2023. Since March I've met so many new fiber people. It has been incredibly nice to meet each of you, hear about your fiber spinning and processes, and share a little bit of Fiber Fate with you. We met at Bandera Fiber & Arts Festival, Farm to Needle, Yellow Rose and Wimberley Market Days. I am looking forward to keeping in touch and meeting more of you fiber lovers and makers throughout the year. Thank you for all the encouragement and inspiration!
Creating more opportunities for us to meet. I am very excited for all the shows and teaching I've been able to participate in this year. I'll be at Houston Fiber Festival for the first time in June. Head to Kerrville for Texas Fleece & Fiber Festival (previously Kid n' Ewe) in October. I will be announcing and posting about a few other opportunities as plans solidify. And don't forget, there's always Wimberley Market Days the 1st Saturday of each month (July is iffy at this point). Check-in at my Shopping/Events page to see current details on where we can meet in person.
Fiber Fate Shop Announcements:
As of March, I am an official member of The Livestock Conservancy. Currently I have 2 handspun yarns (Leicester Longwool) and several commercially processed fibers (Shetland, Jacob, Black Welsh Mountain) available and ready that will fulfill passport requirements. Behind the scene, I have four types of fleece being hand processed for upcoming fiber and yarn sales (Teeswater, Jacob, Shetland, and Churro).
In April, I became a proud supplier of Eucalan wool & laundry delicate wash. I have been using Eucalan regularly for well over 10 years. As you can imagine, with the creation of Fiber Fate a few years ago, it has been an especially useful tool in the production of my yarns. I use it on all my handspun and hand dyed yarns in the finishing stage. I'll have that available online very soon. Feel free to contact me directly via email if you are in dire need. I'm happy to deliver locally, and pop it in the mail otherwise.
See you soon!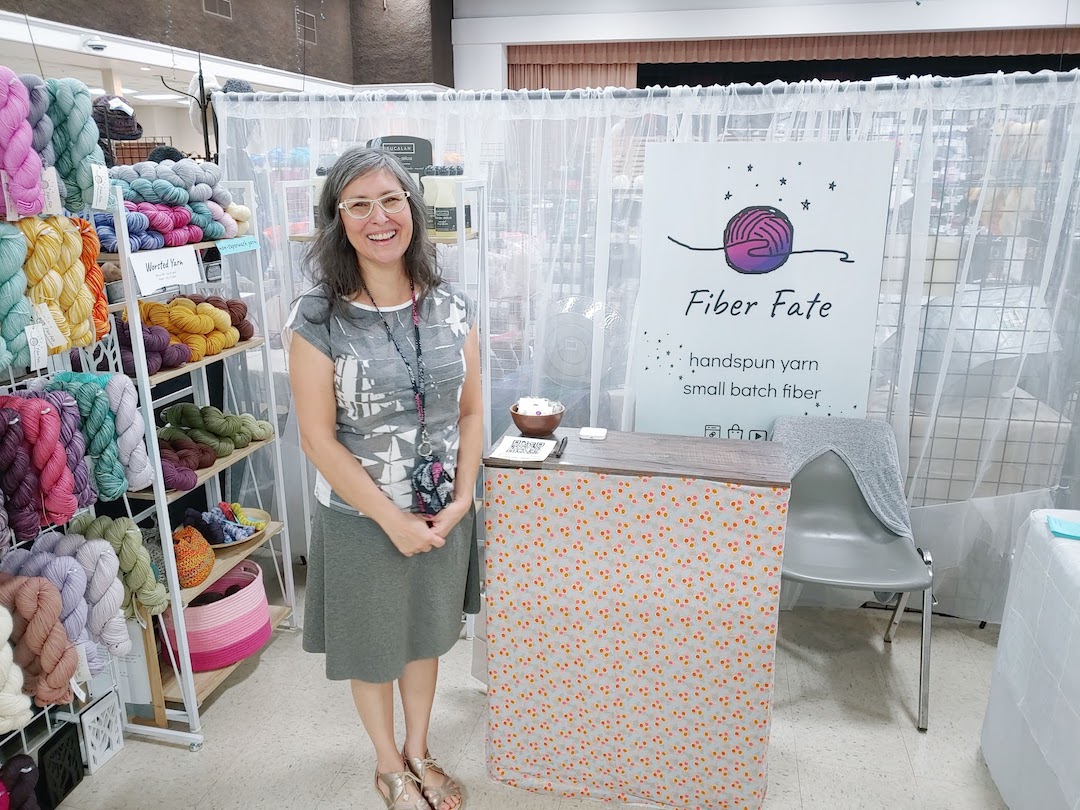 Freshly washed and in progress – Suffolk.
This Suffolk fleece came from Black Sheep Gathering in Albany, Oregon. I grabbed it at the last minute on my final pass through the fleece market. The breed was not marked, but it was dense, fluffy, nice crimp, not terribly dirty, and in my price range considering I just spent a boat load of money at the market and already purchased two other big raw fleeces.
After months, I finally got around to sending a couple of emails to find out exactly what kind of sheep this lovely fleece came from. A very nice coordinator at BSG contacted the ranch where "Bella" resides. Heard back, Suffolk! Suffolk was not on my "learn more about" radar. I hadn't ever even considered it. I am so glad I grabbed this fleece. I love it.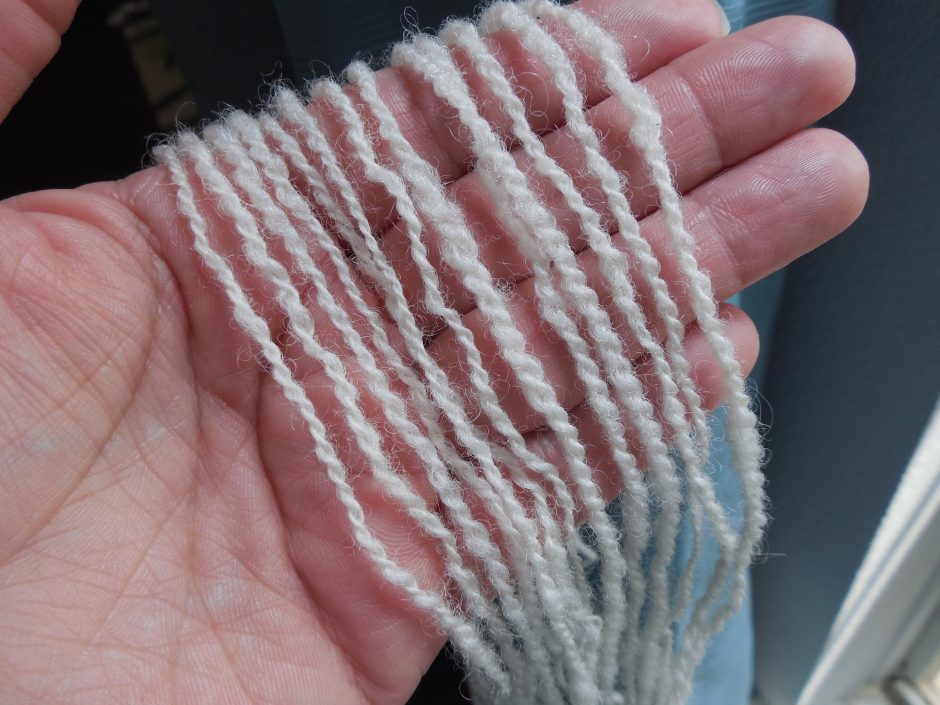 It was a real pleasure to wash. Most of the dirt came off in a pre-soak. The lanolin came off with one wash. Beautiful fleece with half the wash work! It's a nice white and has all the characteristics you expect from the breed.
Suffolk is a down breed. This fleece is medium, slightly on the softer side of medium. It cards up wonderfully on the drum carder and hand cards. The first quick sample yarn I spun straight from a lock, separated with my fingers and spun on a wheel (a). I get so eager to test once a fleece is washed and dry! I spun an extra nice lock on a support spindle as well – teased by hand (b), it was easy and nice spinning (note: Don't judge my sample too much. It was a grab and go situation. Spun to test the wool, not make a perfect yarn.). The last sample, which I just spun up yesterday, is from roving I made on my drum carder (c) and (c2).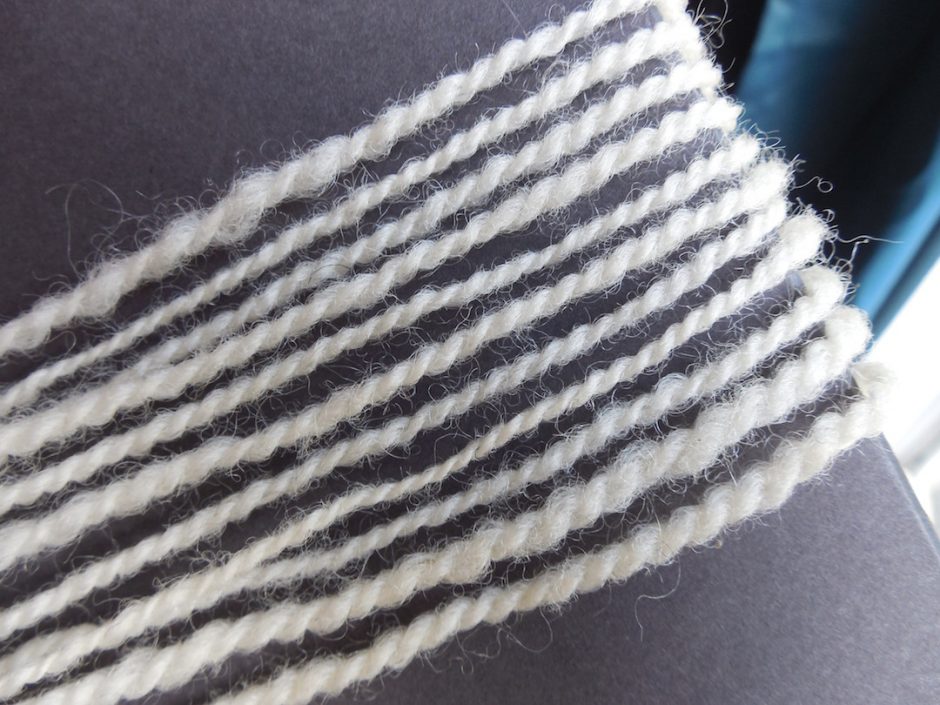 I have three small batches (6 ounces each) of this washed fleece in my Etsy shop. Coming up, I'll have either batts or roving available as well. Feel free to contact me via email if Etsy isn't your thing.