October 6, 2023 11:51 am /
markets shows events
/
becauseyarn
,
centraltexas
,
crochet
,
farmtoneedle
,
fiberfate
,
knitting
,
lys
,
newbraunfelstx
,
punchneedle
,
shoplocal
,
smallbusiness
,
spinning
,
thebestlittleyarncrawlintexas-2023
,
yarnandfiber
,
yarncrawl
October 6th – 15th, 2023
Central Texas yarn crawl kicks off today. Head over the The Best Little Yarn Crawl in Texas website to download the treasure map and preview participating shops. Visit shops, get stickers, enter to win prizes. Grab a yarn or two or ten along the way. It's a great time to stock up for gift making and holiday prep too. Wouldn't it be fun to visit all thirteen shops? What a great little adventure. I'd say a good challenge too. There will be some driving involved. Day(s) trip planning is in order. The shops range from Bandera to Bastrop and Georgetown to San Antonio. Each shop is different and you'll find a variety of specialties on the crawl. So Much Fun!!
Fiber Fate will be at Farm to Needle Yarn Shop in New Braunfels for a Trunk Show and spinning demonstration all day Saturday, October 14th. Visit Farm to Needle Saturday, October 7th, for a Punch Needle Art Exhibit and Mobile Fiber Petting Zoo. I love this shop. It's got a nice yarn vibe inside, a nice sitting area outside.
Not to distract from the yarn, but there is also a popcorn shop next door that has an amazing array of sweet and savory popcorn flavors. They have A LOT to choose from. I bought the the hot dog & ketchup flavor for my family to try and it was a hit. If popcorn isn't your thing, and you need to take a quick refuel break during the crawl, there's a coffee shop and other food options all within a minute or two walk of Farm to Needle Yarn Shop. Check out the the Gruene Lake Village website for details and hours.
See you soon!
May 16, 2023 9:52 am /
markets shows events
,
wools going on
/
Customer appreciation
,
eucalan
,
fiber fate
,
hand dyed
,
handspun
,
livestock conservancy
,
news
,
shop announcements
,
spinning
,
updates
,
wool
What a fantastic start to 2023. Since March I've met so many new fiber people. It has been incredibly nice to meet each of you, hear about your fiber spinning and processes, and share a little bit of Fiber Fate with you. We met at Bandera Fiber & Arts Festival, Farm to Needle, Yellow Rose and Wimberley Market Days. I am looking forward to keeping in touch and meeting more of you fiber lovers and makers throughout the year. Thank you for all the encouragement and inspiration!
Creating more opportunities for us to meet. I am very excited for all the shows and teaching I've been able to participate in this year. I'll be at Houston Fiber Festival for the first time in June. Head to Kerrville for Texas Fleece & Fiber Festival (previously Kid n' Ewe) in October. I will be announcing and posting about a few other opportunities as plans solidify. And don't forget, there's always Wimberley Market Days the 1st Saturday of each month (July is iffy at this point). Check-in at my Shopping/Events page to see current details on where we can meet in person.
Fiber Fate Shop Announcements:
As of March, I am an official member of The Livestock Conservancy. Currently I have 2 handspun yarns (Leicester Longwool) and several commercially processed fibers (Shetland, Jacob, Black Welsh Mountain) available and ready that will fulfill passport requirements. Behind the scene, I have four types of fleece being hand processed for upcoming fiber and yarn sales (Teeswater, Jacob, Shetland, and Churro).
In April, I became a proud supplier of Eucalan wool & laundry delicate wash. I have been using Eucalan regularly for well over 10 years. As you can imagine, with the creation of Fiber Fate a few years ago, it has been an especially useful tool in the production of my yarns. I use it on all my handspun and hand dyed yarns in the finishing stage. I'll have that available online very soon. Feel free to contact me directly via email if you are in dire need. I'm happy to deliver locally, and pop it in the mail otherwise.
See you soon!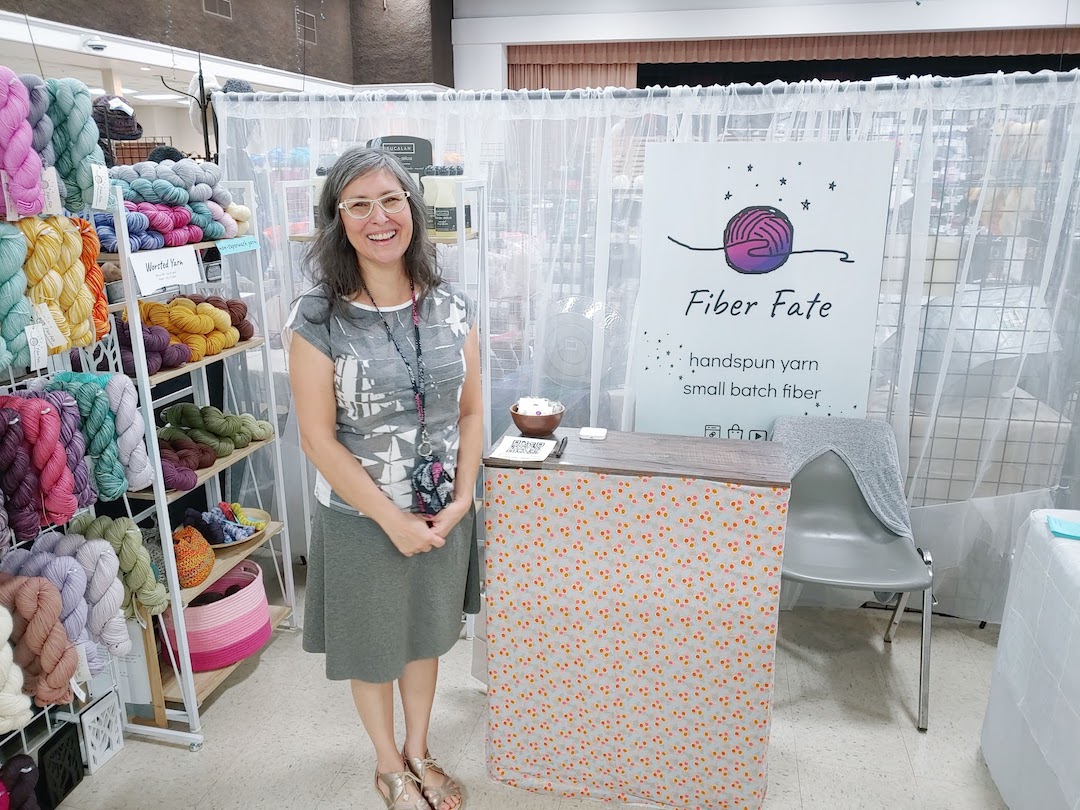 February 28, 2022 9:17 pm /
markets shows events
/
April 2022
,
classes
,
crochet
,
fayetteville
,
felting
,
fiber festival
,
fiber lovers
,
hand crafted
,
handmade goods
,
knitting
,
local vendors
,
outdoor event
,
shop
,
spinning
,
texas
,
texas yarn
,
things to do
,
winery
,
wool
,
yarn
,
yarn event
,
yarn lovers
I attended this outdoor gathering for the first time last year purely as a consumer. It was a lovely sunny day and I was eager to get out of the house to shop the small businesses and see what the heck was going on out there at the Blue Mule Winery. Lots of us where just coming out of our COVID lockdown at that point, eager to get out and about. Despite a tad bit of wind, it was a wonderful event with lots of yarn (of course) and other fibery things, music, classes, a food truck, and drinky-poos for some extra delicious relaxation.
This year, April 2022, I will be vending and teaching at this lovely event. I'll have a variety of handspun yarns and spinning fiber – batts, flicked fiber, and washed fleece available.
Sign up for my Beginning Drop Spindle Spinning class and learn some of the basics of spinning yarn. My class starts at 10:30 am and runs two hours until 12:30 pm. It's a great time slot! You read more about it and sign-up at texasyarnloversevent.com.
If you take my class, you will have plenty of time to get into the event and get your bearings and maybe even browse a few vendors on the way in. There will be plenty of time after to relax, get some food, drinks, sweets, shop, and enjoy the serenity of being away from the city and in the fresh calm outdoors of the Blue Mule Winery. In addition to the big outdoor tent area, there is plenty of one-off spaces to break for knitting, sharing with friends, or some cherished self time. It would not be weird to bring a blanket or a lawn chair to relax on. Hopefully, like last year, it's another wonderful sunny day.
For all you knitters our there, there is a KAL! It is scheduled to start April 3rd. The knit project is by Designer, Morgan Wolterdorf. She announced the design on her Instagram account @morthunder. Follow her on IG and sign up at her website for additional information about the KAL. The final piece of the KAL will be done at the Texas Yarn Lovers Event, April 23rd, in person with Morgan. There will be a group picture of everyone with their project.
Texas Yarn Lovers Event – Saturday, April 23rd, 2022
Blue Mule Winery – 8127 N FM 1291, Fayetteville, TX 78940
https://www.texasyarnloversevent.com/
So much to look forward to.