Freshly washed and in progress – Suffolk.
This Suffolk fleece came from Black Sheep Gathering in Albany, Oregon. I grabbed it at the last minute on my final pass through the fleece market. The breed was not marked, but it was dense, fluffy, nice crimp, not terribly dirty, and in my price range considering I just spent a boat load of money at the market and already purchased two other big raw fleeces.
After months, I finally got around to sending a couple of emails to find out exactly what kind of sheep this lovely fleece came from. A very nice coordinator at BSG contacted the ranch where "Bella" resides. Heard back, Suffolk! Suffolk was not on my "learn more about" radar. I hadn't ever even considered it. I am so glad I grabbed this fleece. I love it.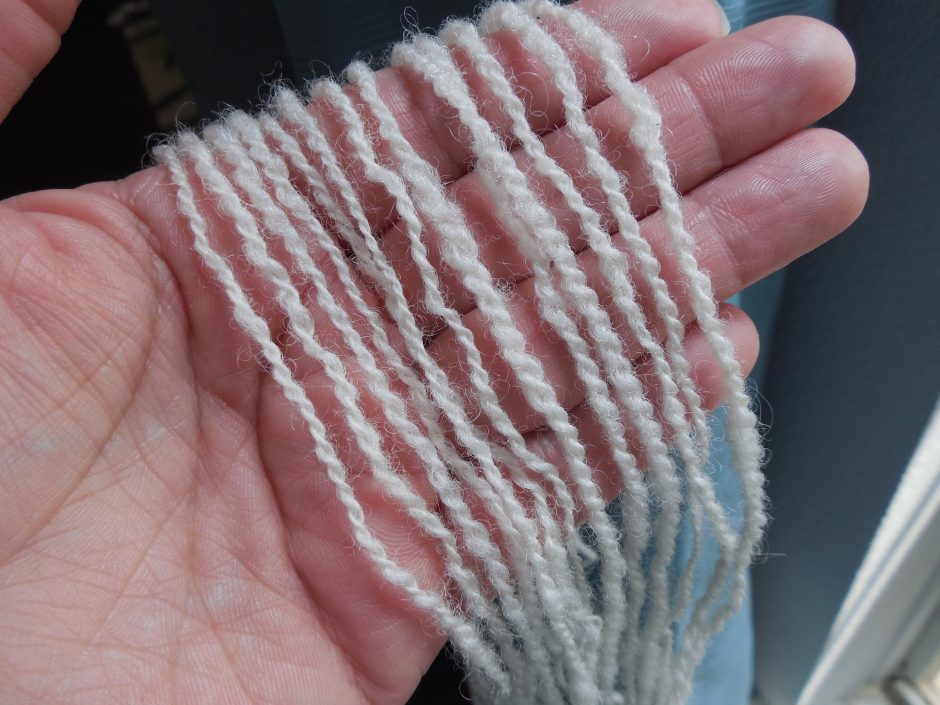 It was a real pleasure to wash. Most of the dirt came off in a pre-soak. The lanolin came off with one wash. Beautiful fleece with half the wash work! It's a nice white and has all the characteristics you expect from the breed.
Suffolk is a down breed. This fleece is medium, slightly on the softer side of medium. It cards up wonderfully on the drum carder and hand cards. The first quick sample yarn I spun straight from a lock, separated with my fingers and spun on a wheel (a). I get so eager to test once a fleece is washed and dry! I spun an extra nice lock on a support spindle as well – teased by hand (b), it was easy and nice spinning (note: Don't judge my sample too much. It was a grab and go situation. Spun to test the wool, not make a perfect yarn.). The last sample, which I just spun up yesterday, is from roving I made on my drum carder (c) and (c2).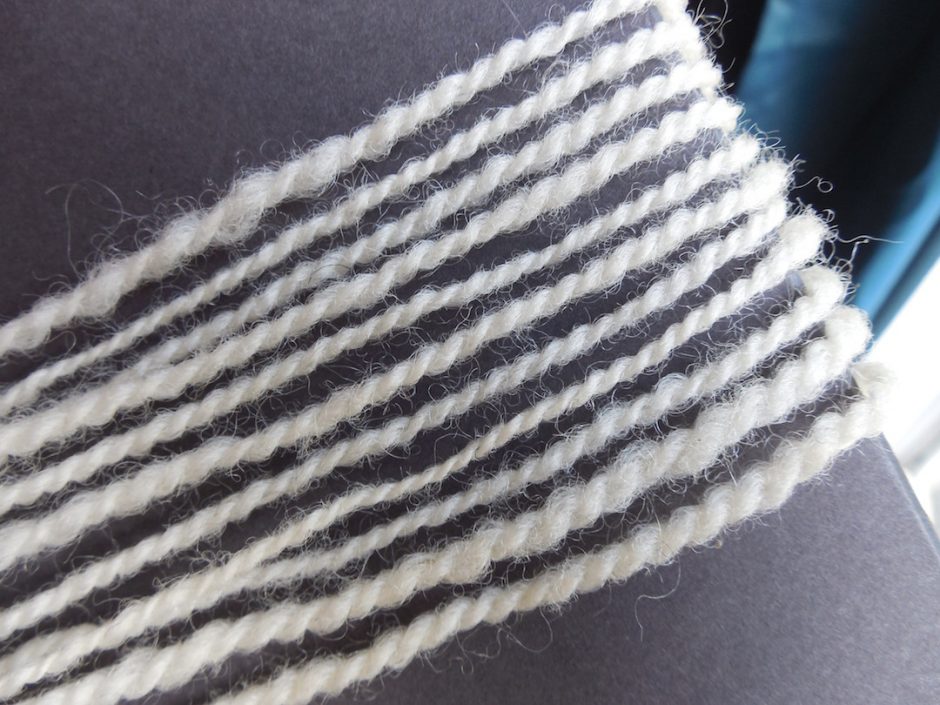 I have three small batches (6 ounces each) of this washed fleece in my Etsy shop. Coming up, I'll have either batts or roving available as well. Feel free to contact me via email if Etsy isn't your thing.